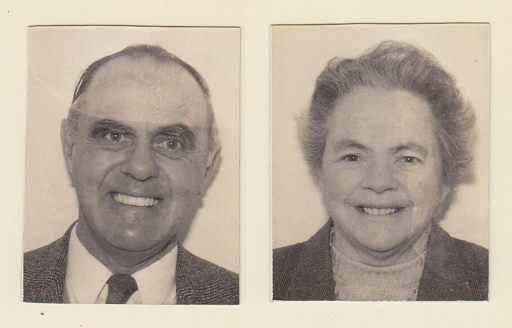 In 1849 Samuel and Anna Uebergang and family arrived in Victoria from Silesia in Prussia. After working for a time on Trawalla Station near Beaufort they rented a farm at Woodford.
Samuel's grandson, Charles Henry, acquired a portion of the early Allansford property Tooram Estate in 1912, calling this portion Tooram Park. Percy Uebergang, his son, farmed it in turn.
Percy married Myrtle Wright and in 1926 twins, Raymond Walter and Joyce May, were born. Ray and Joyce lived at Tooram Park all their lives attending the Allansford State School and Warrnambool Technical College. Looking at items in the Uebergang collection it is clear that they had an enjoyable childhood sharing a small toy projector, a stereoscope and building blocks.
The family never wasted anything and even 'worn out' items were put to good use. A dressing table was turned into a desk, biscuit tins were used for storing milking rubbers and other items and papers were carefully kept as a record of spending and work completed on the farm.
Ray and Joyce inherited the property in 1971 following the death of their mother. The property remained in the Uebergang family until sold in the early 1990s.
Ray was a member of the Allansford Fire Brigade and the Allansford Presbyterian/Uniting Church for many years acting as Treasurer during much of this time. He was still active in both the fire brigade and church when he died. After suffering a broken leg whilst fire fighting, Ray was seen driving through Allansford on his red tractor with his leg in plaster thrust out in front beside the engine and a crutch alongside. His doctor had told him he couldn't drive the car but apparently Ray, with his touch of humour, felt that did not include a tractor!
Joyce was active in the Allansford community belonging to the Presbyterian/Uniting church, the CWA and as a leader in both the Scout and Guide movement. She also spent some time travelling, enjoying several trips to Queensland. Joyce was given a Brownie box camera when she was young and enjoyed taking photographs. A number of these remain in the Uebergang collection. She was a member of the Historical Records Steering Committee and Warrnambool & District Historical Society. Her donation of historical items from the family property forms the basis of the Cheese World Museum local history collection.
Both Ray and Joyce were involved in the Allansford 125th Anniversary Celebrations. Joyce was a keen helper with the production of the history book and the historical display.
Following Ray's sudden death in June 1985, Joyce inherited the family properties. Joyce set up a trust fund in honour of her brother. Joyce died on 2 March 1992 after a protracted illness. As neither Ray nor Joyce had married the property was sold and the proceeds invested in the Ray & Joyce Uebergang Foundation. The foundation provides funds on an ongoing basis, supporting many organisations in the Allansford-Warrnambool area and is constant reminder of the valuable contribution of these two generous siblings.
Graeme McLeod